OnePrint G2 for Windows
Enterprise Wide AFP/IPDS from your iSeries and Mainframe

Integrated Print
Solutions
IPDS Software
to Turn Your Laser Printers and Epson, Lexmark, OkiData and Other Matrix Printers into Full Function iSeries / zSeries IPDS Matrix Printers
Download a Free Dem

o Version
of OnePrint G2 For Windows

Overview
OnePrint G2 for Windows is the second generation of this powerful and versatile server-based print management platform that enables Mainframe and/or Midrange print job distribution over TCP/IP to any printer in a Windows environment.
Each OnePrint G2 for Windows allows you to distribute print jobs on a large number of printers. A virtually unlimited number of printers can be attained by adding more OnePrint G2 for Windows units.
OnePrint G2 for Windows enables delivery of AFP/IPDS host documents to any predefined Windows attached ASCII printer.
http://54.190.197.144/opg2console/
It provides central management and dynamic control over setup, print routing and problem resolution for all distributed LAN-attached printers. Your personnel continue working like before but with the added benefits.
Now, you can print any host document to any target printer at any time.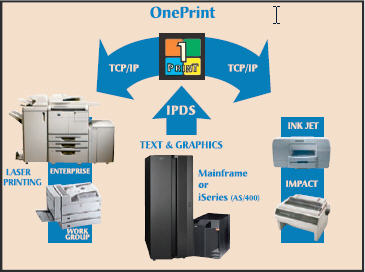 OnePrint for Windows receives host print jobs (AFP/IPDS ) and then converts them into standard ASCII data streams (PCL4, PCL5, PCL5 Level 3, PCL5e Enhanced, Epson, Canon and PostScript).
OnePrint for Windows then sends the converted data to a printer (print queue) that is configured on a Windows Server. That printer can either be directly attached or a network printer.
OnePrint for Windows can be managed remotely via a web browser from any Windows workstation.
Key Benefits
OnePrint for Windows allows you to distribute host-based print jobs to a large number of printers. You can now print any host document to any Windows predefined printers at any time. Whatever the printer, the results are the same - host documents will always be printed exactly the way you expect them.

OnePrint for Windows helps you get the most of your already existing technology. While other solutions require expensive and repeated investments in controllers, printers or printer interface devices, OnePrint for Windows works with your existing enterprise printing technology.
Download the OnePrint G2 for Windows Datasheet

Download a Free Demo Version of OnePrint G2 For Windows IPDS Software
OnePrint G2 for Windows Features
OnePrint G2 Feature

OnePrint G2 Benefit

Supports Multiple Hosts

A single OnePrint G2 can be connected to an IBM Mainframe over SNA and to a large number of IBM AS/400 midrange systems and/or IBM Mainframes over TCP/IP

Integrates IBM Hosts
and LAN/WAN Networks

Provides a single printing management solution from TCP/IP host to enterprise printers via Windows Operating Systems.

Communicates with Enterprise Printer

No need to invest in printers. OnePrint G2 works with your existing Windows pre-defined LAN/WAN attached printers

Modularity

Easily upgradable to more printers support, without the need to re-install the software.

Supports Multiple Network Operating Systems

Routes AFP/IPDS documents via Windows any LAN/WAN attached ASCII printer

Supports Popular
Networking Protocols

Powerful networking capabilities over TCP/IP, and NetBEUI, allowing printer connectivity anywhere in the world (via LAN/WAN), providing true end-to-end IPDS communication.

Supports a Full Range
of ASCII Printers

Delivers AFP/IPDS host documents to any LAN/WAN attached printer - whatever the printer, the results are the same.


Cost Effective

Leverages your investment in client-server technology by using existing LAN/WAN printers for IPDS documents, saving the cost of expensive IPDS printers.

Remote Management

Provides remote control with the efficiency of a client-server application. Superior Web based management and control capabilities over TCP/IP.

Intranet Monitoring

Platform independent monitoring. Allows your system administrator to view the OnePrint G2 Console via the Intranet, using a standard Web Browser.
FAQs -Frequently Asked Questions
Download the OnePrint G2 for Windows Datasheet

Download a Free Demo Version of OnePrint G2 For Windows IPDS Software
OnePrint G2 for Windows