Replacement Keyboards from I-O Corporation
For Most Brands of Twinax Terminals and Thin Clients

Overview
I-O Corporation offers keyboards that are ideal replacements for 122-Key Keyboards from most brands that offer this type of keyboard as well as for those that do not offer them.
Twin Data can supply you with replacement keyboards for your Twinax, Coax and Thin Client Terminals, new or old.
If you need 122-Key 24-Command Key keyboards for your I-O Corporation Twinax Terminals I-O Twinax Terminal Keyboard (p/n IO-2677KB122) is the perfect replacement.
12-Command Key 102-Key Twinax Terminal Keyboards are also available, in black or white as shown below: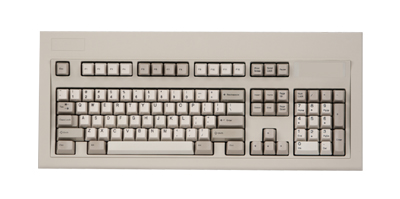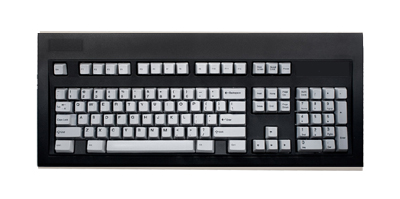 For PCs, and Thin Client Terminals form ANY manufacturer, the 122-Key PC/5250 Keyboard (p/n KBPC122-5250U) is the perfect choice. These keyboards have the classic tactile feedback "clicky" keys as on the classic "Model M" keyboard.
We can also give you 122-Key Keyboards for all the Thin Client Terminals you are using in an AS/400 iSeries or S/390 zSeries environment. These keyboards eliminate any operator retraining by providing the same productive keyboard layout being used for years.
Click Here for more information on Replacement 122-Key Keyboards
I-O Twinax Terminal Model

Replacement Keyboard Item Number

Purchase

2676D Twinax Terminal
2677C Twinax Terminal
2677D Twinax Terminal
2677M Twinax Terminal
2677MC Twinax Terminal

TC2677 Ethernet Terminal

| | |
| --- | --- |
| (all above have 6-pin PS/2 keyboard connectors) | |

IO-2677KB122 122-Key - 24 Command Keys, PS/2
I-O Part No. 58.069 - Black
I-O Part No. 58.003 - White

$ 139.00

IO

-

267

7

KB102
102-Key - 12 Command Keys, PS/2
I-O

Part No.

58-070 - Black
I-O

Part No.

58-0

02 - White

$ 129.00

2687C Twinax Terminal

| | |
| --- | --- |
| (RJ45 keyboard connector) | |

IBM34

86

KB102N
102-Key - 12 Command Keys

, RJ45

$ 129.00

kbiw122-5250


122

-

Key

- 24 Command Keys, RJ45

$ 149.00
Click Here for more information on Replacement 122-Key Keyboards
I-O Corporation Keyboards
Keyboard Information Request