Net-2000 TelNet Gold
TN5250e & TN3270e TCP/IP Connectivity Software
TN5250e & TN3270e Connectivity Software for IBM
i5, iSeries AS/400 (TN5250E)
and z14, z13zSeries

S/390 (TN3270E)


for Windows 7, Vista, XP and

200

3

/

200

8

Terminal Servers

PLEASE NOTE: Net-2000 TelNet Gold TN5250e Emulation Software has been discontinued.
The replacement product for this software is NLynx OmniTerm/ES TN5250e Emulation Software.
Please click here to be taken to the OmniTerm/ES Software page.
Overview
Developed by Praim, Net-2000 is a solution for users that need to connect to IBM i5, iSeries AS/400 orzSeries S/390 Systems using the TCP/IP communication protocol.

The main engine of Net-2000 is the emulation program "TelNet-Gold" that provides the 5250 /3270 connection to Host system. This emulator was designed entirely by Praim, the result of years of experience and a knowledge of IBM users. Besides a complete list of available Terminal emulations, "TelNet-Gold" offers ?real? IBM 3812 printer emulation with advanced functionality demanding users require.

Specific functions like "Hex Pass-Through", Euro symbol, and "Host Transform", to name a few, are standard functions integrated into "TelNet-Gold". Also included is the "Auto Sign-On feature with encrypted password ,which provides better security for the Host system connection, without installing expensive data security SSL (Secure Socket Layer) software options.

The TelNet session configuration is made easier by the TelNet Gold Wizard, a utility program designed to guide the user through the configuration phase. The management and editing of all emulation parameters is fast and intuitive thanks to the " Administrator" program.

The Advanced View function is a new feature which modernizes the look and feel of the 5250 display screen.
It is possible to choose between two different visualization modes; standard mode (classic ?green on black? color layout) and advanced mode (graphic visualization), as shown in the figure on the right.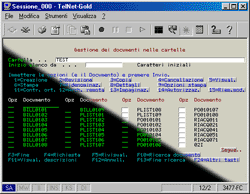 Terminal Server Version

Derived from the single workstation version,, the Terminal Server Version can be installed centrally and used from client devices in multi user mode.It is fully integrated with the Microsoft Active Directory tool for access to the user database.


Domain User Enumeration
In this mode, the session administration tool allows the enumeration of all domain users and manages the distribution of specific configurations.

A specific configuration for every user
Emulation sessions are assigned from the administrator and can be displayed as menu items or desktop icons.
Click here to receive more information on Net-2000 TelNet Gold TN5250eTN3270e Software
To view the Data Sheet on Net-2000 click on the link to the right: Net-2000 Data Sheet

| | | |
| --- | --- | --- |
| Item Number | PRODUCT | OPERATING SYSTEMS |
Information Request Form
General Info. Request Form - New 032116
Click on the links below to go to:
NLynx OmniTerm/ES TN5250e / TN3270e Terminal Emulation Software
NLynx USB 5250 Twinax Emulation Kit