Transition Networks
PowerStar III, IV and V Active Star Twinax-to-RJ45 Hub
for IBM iSeries and AS/400
PowerStar
III, PowerStar

IV

and

PowerStar V Twinax-to-RJ45 Active Star Hubs for iSeries, AS/36 and all Twinax

Controllers
PLEASE NOTE: Transition Networks PowerStar Active Star Hubs are no longer manufactured and are available as Refurbished Products. We have other products to meet any requirements for RJ45 or RJ11 Active Star Hubs.
Overview
The PowerStar Family of active repeater is a cost-effective way to convert a Twinax daisy chain topology to the greater reliability and flexibility of a Category 5/6 (Cat5/Cat6) wiring environment. .
Call us at (800)597-2525 for other Transition networks iSeries and AS/400 wiring products such as Twinax-to-fiber converters and Twinax multiplexers.

Features
Connects two Twinax host ports and 14 devices in a star configuration via Category 5 or Category 6 (Cat5/6) RJ45 Ethernet-type cabling capable of supporting Twinax devices at a total distance of up to 5000 feet (1520 meters) from the host.

Provides true start sequence regeneration and line synchronization.

Each port has separate transceiver circuitry and is isolated from the other ports, so disconnecting or removing one device does not affect the other devices.

Automatically compensates for speed differences among 5250 devices.
Application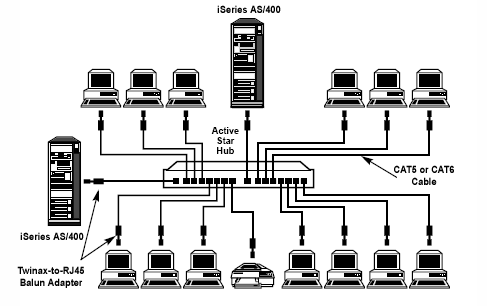 Specifications
SPECIFICATIONS

Feature / Description

System Environment

IBM

iSeries, AS/400, AS/36, S/36 and all Twinax Controllers (IBM, Perle, I-O, BOSaNOVA)

Devices

All 5250 and compatible devices supported by IBM systems

Connectors

| | |
| --- | --- |
| Twinax Host Ports | 2 RJ45 |
| Twinax Device Ports | 14 RJ45 |

Cable

Category 5 or Category 6 (Cat5 or Cat6)

Maximum Distances

| | |
| --- | --- |
| Category 5 or Category 6 | 760 m (2,500 ft.) |

Data Rate

1 Mbps or 1.038 Mbps, auto sensing

Unit LED

Power: Lit for normal operation

Port LEDs

Line sync
Lit for normal operation
Error
Blinks when parity error in the data/address frame occurs

Power

PowerStarIV and V -

Internal universal input;

90 ? 264VAC, 47 ? 63Hz, 40W


PowerStar III -External Power Supply

Environment

0 ? 50?C; 5% ? 90% humidity non- condensing; 0 ? 10,000 ft. altitude

Dimensions

Width: 17.0" (432 mm)
Depth: 6.0" (153 mm)
Height: 1.625" (42mm)

Shipping Weight

8 lbs. (3.6 kg)

Compliance

UL listed; FCC & CISPR Class A; CE Mark
Information Request Form
Wiring Products Information
Wiring Products Info Request - New 051116