The PCI Emulation Kit to Connect Your Windows 7 PC, Windows XP and Vista to your i5 iSeries AS/400 and S/36 Hosts

PLEASE NOTE: The TwinXpress Emulation Kit has been discontinued. The replacement product is the NLynx USB Twinax Emulation Kit and is compatible with Windows 10, Windows 8, Windows 7 and Windows XP. Please click here to be taken to the USB Twinax page.
Overview
The TwinXpress 5250 PCI adapter allows attachment of PCs with PCI expansion slots to IBM iSeries AS/400, i5 and S/36 Systems that support for Twinax devices.
The TwinXpress 5250 PCI Adapter works with the 32-bit versions on Windows 7, Windows Vista, and Windows XP.
This adapter can be attached to the host either locally through the Twinax Workstation Controller, or at remote locations via an IBM 5494. 5394, or 5294 Remote Controllers or compatibles from Decision Data, Idea, I-O Corp, or Perle. (Click here or on above picture for detailed specifications)
Click here for more information on the TwinExpress PCI Emulation Kit
Features
Plug and Play for easy installation and automatic configuration

Available in a low profile PCI card for PCs that take the new, smaller PCI expansion cards.

Twinax attachment of any PC with a PCI expansion slot to IBM S/3X and AS/400 host systems

Supports ETU File Transfer Utility (call for specific requirements)

No switches or jumpers. It automatically configures itself in a compliant PC and dynamically adjusts as new adapters are added or deleted. Fully Plug and Play compliant.

Supports up to 7 Twinax sessions (7 physical addresses)

Supports TCP/IP applications over existing Twinax cabling to your iSeries AS/400 host

Designed to work with Windows 7, Windows Vista and Windows XP (32-bit versions only)
The TwinXpress 5250 PCI adapter offers the convenience of Plug and Play, making it easy to install and configure. So, you don't have to configure memory and I/O addresses at installation; the PC automatically configures the adapter for you.
The TwinXpress adapter comes bundled with the TwinXpress-Suite, a useful collection of software modules plus two powerful 32-Bit emulation programs. TwinXpress-Suite offers a complete suite of applications needed by today's users that includes the following:
Ordering Information

Item Number

DESCRIPTION

WINDOWS VERSIONS

PURCHASE

CMTWINEXPRESSPCI

TwinExpress PCI Twinax Emulation Kit

Windows 7- 32 Bit
Windows Vista- 32 Bit
Windows XP

Discontinued
Call Us For
Availability

CMTWINEXPPRESSCILP

TwinExpress PCI Twinax Emulation Kit - Low Profile

Windows 7- 32 Bit
Windows Vista- 32 Bit
Windows XP

Discontinued
Call Us For
Availability
Click here for more information on the TwinXpress PCI Emulation Kit
CompuMaster TwinXpress PCI Emulation Cards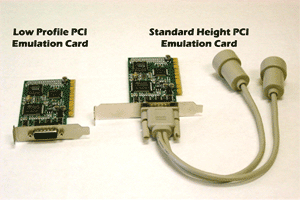 Item

Feature / Description

Terminal Session
Characteristics

Supported Display Emulations: 5251, 5291, 3196, 3180-2, 3197-D, 3197-C, 3477FC

Supports 14 resident national keyboard templates.

We offer a 122-Key PC/5250 USB Keyboard that helps eliminate any issues of moving to a PC keyboard from a Twinax Terminal 122-Key Keyboard. Click here for more information on this keyboard.

Includes GUI, Hotspots, Macros and programmable EasyPad.

Includes tools for keyboard mapping and attributes editing.

Cursor and fonts selectable.

Includes Cut/Copy/Paste feature.

Includes Record/Playback feature.

Printer Session
Characteristics

Supported Printer Emulations: 5256, 5224, 5225, 4214, 4234, 5219-D, 3812.

Support for continuous forms, multi drawers, envelope, manual feeders, simplex/duplex, auto page orientation, and COR (Computer Output Reduction).

Supports CPI, LPI override and LQ, NLQ

Selectable Printing mode:

Windows Driver (GDI, graphic mode)
Pass-Through Driver (PTD, text mode): choice of pre-configured, cutomizable printer drivers.

Supports Hex Pass-Through (HPT) feature, with customizable leading and ending sequences

Supports EURO symbol

Hardware
Specifications

Adapter Cable:

Y-Cable Adapter Cable Included

Physical Specifications

Width: 2.4 in / 61 mm
Depth: 4.8 in / 122 mm

Operating Temperature

50? to 104?F / 10? to 40? C

Relative Humidity

8% to 85% (non-condensing)

Certifications

FCC, CE ?EN 55022 ? EN 50082-1

Warranty

Limited 3-year manufacturing fault warranty

Ordering Information

Part Number CMTWINEXPPCI - TwinExpress PCI Emulation Kit

TwinXpress Emulation software

TwinXpress

A collection of software modules that allows the adapter to be used with NS/Router (NetManage), IBM Personal Communications Ver. 4.1 for Windows NT, IBM eNetwork Personal Communications Ver. 4.2 for Windows 95 and Windows NT, and IBM Client Access Express for Windows 95 and Windows NT (Ver. 3 Rel. 1 Mod. 2 and higher), Windows 2000.

TwinXpress

TCP/IP over Twinax Transport Driver. This Driver has been specifically developed to allow the TwinXpress adapter to work as a standard Network card for TCP/IP connection.

TwinXpress
Emulation

32-bit Telnet emulation program fully compatible with Windows? Vista, Windows XP, Windows 2000 , ME, NT, 98, and 95. Supports the Workstation IDS definition.

Allows up to 10 concurrent Host connections, each one can support up to 32 Terminal/Printer sessions.

Includes "Telnet Wizard", to guide you when creating the Display and Printer Sessions.

Includes "Session Administrator", a powerful software tool used to create, modify or edit all the session?s configuration parameters.

Telnet-FTP

FTP file transfer utility designed specifically for use with the AS/400; fully supports all file systems and file naming conventions. It provides a useful Remote Command Feature allowing the user to run CL commands within the FTP connection.